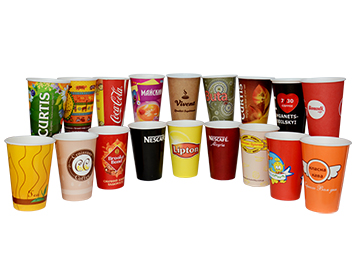 The company "Ecocup" - the first domestic enterprise in Ukraine for the production of disposable cardboard tableware, began its activity in 2002. For 15 years of work, we have accumulated rich experience in production, we have an excellent reputation and a large customer base. The production capacity of our company allows us to produce more than seventeen million glasses per month, which will satisfy the demand of almost any large customer, both in Ukraine and abroad. Our products are certified in Ukraine and meet all sanitary and hygienic standards and requirements. Throughout our activity, we have been cooperating, both on an ongoing basis and periodically for various promotions, thematic events, etc., with suppliers of almost all well-known brands of tea and coffee represented in Ukraine: TM "Nescafe", " Nesquik", "Buondi", "Milano", "Lipton", TM "May tea", "Curtis", "Hyleys", TM "Videnska Kava", "Vivent", "Julius Meinl", "Lavazza", "Essse ", "Kimbo", "Essero", "Santorino", "Osmanthus", "Valeo Rossi", "Paulig", "Coffe Spesial", "Caffe Poli", "Into" and many, many others. We work with the networks of snack bars "Shvidko", "Two Gus", "Mak Foxi", "Pechen Kartoplya", "Fresh Factory", "Fresh & Go", "Pick Cup", on a permanent basis we worked with gas station networks in the Crimea: "Atan- Crimea" and "TES-Auto"; for three years they were a supplier of cups for the WOG network (TM Sun Market), we produced cups for promotions for gas stations Sokar (TM Buta), OKKO, BRSM-Nafta. We have experience in deliveries to neighboring countries.
Thanks to the accumulated experience and multi-level quality control, our products are one of the highest quality in Ukraine, and the price-quality ratio is the most optimal. A close-knit and experienced team, which is working for over two decades, is doing everything to make our customers satisfied with our products and develop their business using the best quality domestic cardboard tableware.
This is achieved due to the fact that:
1. We produce cups of the most popular sizes: 110, 175, 250, 350, 500 ml. from espresso to cocktails. Polystyrene lids for various drinks are available for all cup sizes.
2. For the production of disposable tableware, we use exclusively Finnish cardboard from the Stora Enso factory, which meets international standards and is approved for food contact.
3. We offer a wide choice of cardboard of various density, with one-sided or two-sided lamination, based on the scope of the dishes, their appearance, as well as the price of the final product.
4. The application of logos on cups and tureens is carried out by a flexo machine with printing from 1 to 8 colors, which allows you to display emblems, texts and images of any complexity.
5. High-speed equipment makes it possible to uninterruptedly meet the demand for disposable tableware of any fast food chain, the largest enterprises - beverage sellers, their retail distributors, etc.
6. Experienced designers will carry out the technical completion of your logo or help with the development of a new design.
7. When concluding a contract, we always indicate the actual production time, of course, coordinating the degree of urgency with the customer.
8. Prompt delivery of goods in Ukraine: regular deliveries of goods to Kyiv at the address of the customer, dispatch of goods by any transport companies, as well as organization of delivery of consignments of goods by passing transport. We work directly with clients.
9. We are responsible for each unit of our products, we take into account the wishes of customers, our customers are partners for many years.